Monday, January 15, 2007
Get well, Cecil!
Ouch! Cecil Castellucci is great at everything she tries, and that's a lot: She's a novelist, musician, film-maker and now, with the MINX line, a comics writer. She's game to try anything, including ice hockey: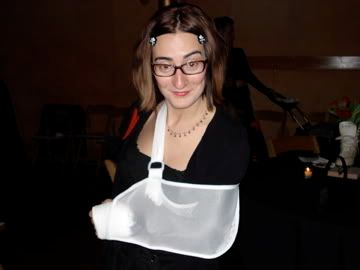 The rest of the story is at her blog
Colleen Coover reports that there'll be a Portland signing for the Fantagraphics
Beasts!
book. Bwana Spoons will be hosting the event at the
Grass Hut store on Burnside
Friday,
February 2nd, 6pm-9pm. She says "Don't be shy-- it'll be fun. I think I'll be
able to make that one and would love to meet all ye kind folks that I
can in person."
Over at Comic Book Resources, there's an
interview with Jim Demonakos
that looks at his wild success with the Emerald City Comicon in Seattle. Here's part of Jim's secret that the piece doesn't discuss: The man has got his shit together. We at Mercury love the show because it manages to be both fun and super-professional. Look for us there this Spring.
Elsewhere at CBR they're profiling the Marvel Adventures line, with lots of great quotes from Zeb Wells, Fred van Lente, and our own Jeff Parker, who notes: "I think as we make more comics with general appeal and less dependence on continuity, we'll keep wiggling back into the distribution system that spurned us long ago."
Part 1
,
Part 2
Three links of interest to the Portland comics scene:
On the TCJ board, Steve Lafler writes: "I'll be in NYC on
The Joey Reynolds Show
late Tuesday night (actually early Wednesday a.m.) at 2 a.m. on WOR Radio 710.
Mr. Reynolds claims to be the "Seinfeld of Radio" and bills himself as "The Leader of the Royal Order of Night People". It will only be 11:00 p.m. west coast time, so presumably I'll be awake enough to be cogent. I'll be talking about my "40 Hour Man" book, as well as earlier stuff."
The Portland Drink and Draw
kicks off on Saturday, January 20th at the Rose and Thistle, at 2314 NE Broadway, at 7:00PM. Details at the link.
And finally, Jesse Reklaw, Nate Beatty, Greg Beans and Sarah Oleksyk have
started Comixlist,
a list for Portland comics events. Bookmark it, because it's your only hope of keeping track of what's going on in the most lively comics scene in North America.
posted by Steve
Labels: Colleen Coover, Jeff Parker, Jim Demonakos, Minx, Portland